Well, here is the sexciting post I was talking about. I thought about it, whether should I write a post on this or not, but in the end, I decided to just write one but with minimal pictures.
I went to Adelaide Sexpo with a group of my friends - 9 of them. And as the name suggests, it's all about sex, sex and sex, of course. There were strippers on stage, nude girls giving out fliers and stuff.
No, I am not a PERVERT! It's just for an experience and we get discount if we go in a group of 10, and since my friend persuaded me to join them to make up the 10, so I did.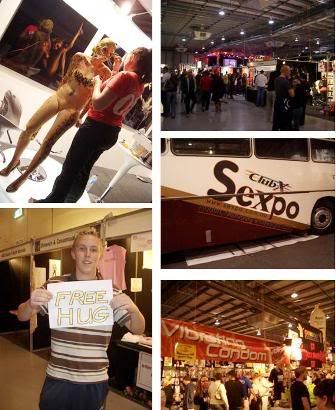 I only post pictures which have no nudity or anything harsh, so, you gotta use your imagination a bit. There were many, many sex toys shops and you name how you want it, they have it.
I always thought guys are hornier than girls, but turned out, the girls bought something, while us, guys, just went there to look look see see.
There were lots and lots of kinky stuff like handcuffs, whips, bondage ropes and so on. And all sorts of viagras, herbs to enhance your sexperience and you name it!
It was kind of awkward at first, and I guess that is why we all kept on laughing. We just laughed at every single thing we see, but slowly we just got used to it and everything seems pretty much normal. I mean, hey, it's just sex toys.
There were also strip shows and I swear, that lady on the left hand side is B-E-A-U-T-I-F-U-L! Gorgeous man!
Of course, there were music and stripping, but they don't take off their bottom. I think it's against the law or something to take off your bottom in public. Top, no problem.
So, they peeled off their clothes one by one until their boobs are exposed, and left only a G-string, and went on to do some teasing. Use your imagination.
I really don't know how to blog about this experience. Haha. It's just awkward, but just wanted to let you guys have a look into what a Sex Expo is like.
Thus, I will end here, with a photo for all of you.
This man is funny! Seriously. :P
---
You know your friend has been studying too much when he answers your question before you even ask a question.
"Hey, quick question"
"The answer is pi"
"-_- I haven't even ask you the question..."
---
After much consideration, I am moving to blogspot! Sometime soon. Maybe tomorrow. Blogdrive is being a pain in the arse with it's limited features and sometimes, not so user-friendly as well.